GIVE NOW
REPRESENTING INDIVIDUAL
ACHIEVEMENT
GREAT FOR TRUE BOXING FANS THIS HOLIDAY SEASON!!! PLUS SUPPORTING A GREAT CAUSE!!!
100% of the proceeds from the donation for the t-shirts will be used in Armstrong's honor to support the youth, education, the homeless and equality.
These 3 Individual collectors t-shirts represents boxing Legend Henry Armstrong making history and achieving a super achievement in the sport of boxing and are being offered as a donation bonus gift. They will certainly bring about a well conversation concerning the sport of boxing.
Included are Armstrong's signature and image of the actual win in the boxing ring representing Henry Armstrong being the only fighter in boxing history to ever hold undisputed championships in three different weight classes simultaneously on August 17, 1938.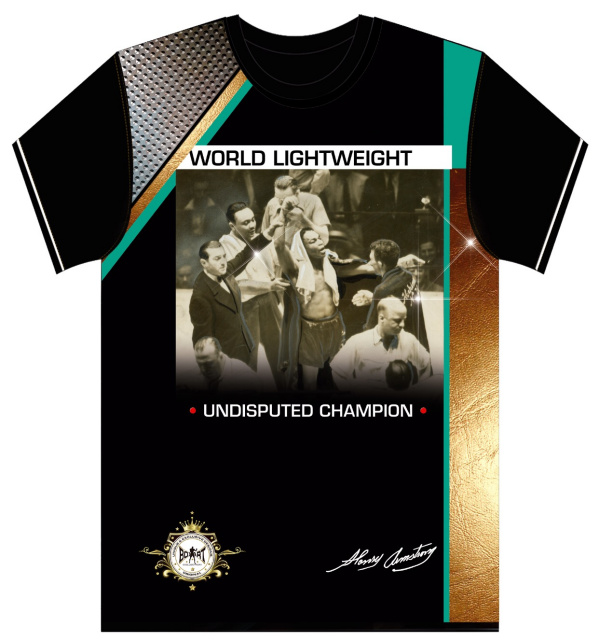 Available in sizes S, M, L, XL, for a minimum donation of: $50.00 for one t-shirt or $125.00 for all three. (On larger sizes, an additional fee may be required)
Please be sure to indicate your size when you make your donation.) FREE shipping in USA, Outside of USA, shipping varies and additional charges will apply. (Please allow 14 days for delivery.)
To send contributions by mail: Please make your checks or money orders payable to: Henry Armstrong Foundation, Inc. 2007 Wilshire Blvd. Suite 727 Los Angeles, CA 90057.
The Henry Armstrong Foundation, Inc. has been classified as a non-profit 501(c)(3) organization by the Internal Revenue Service (Tax Exempt).
Your contributions and donations are greatly appreciated and are fully tax deductible as allowed by law.