GOD'S CHAMPION 333
$600 – God's Champion 333 Letterman Jacket & t-shirt
(Available in sizes S, M, L, XL, for a minimum donation of $600.00, shipping included, for larger sizes, an additional $50 donation should be included. Please be sure to indicate your size when you make your donation.)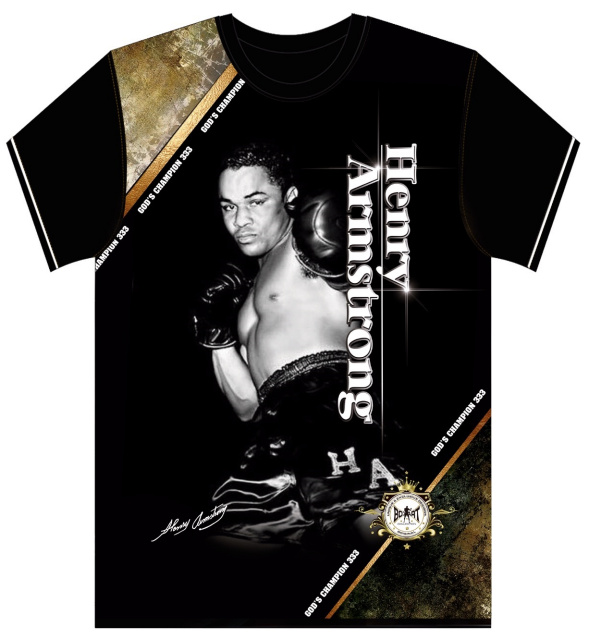 $100 – God's Champion 333 t-shirt & Twenty Years of Poems, Moods & Meditation by H. Armstrong (pdf)
(Available in sizes S, M, L, XL, for a minimum donation of $100.00, shipping included, for larger sizes, an additional $10 donation should be included. Please be sure to indicate your size when you make your donation.)
This t-shirt not only represents the 80Th anniversary of Henry Armstrong being the only fighter in boxing history to ever hold undisputed championships in three different weight classes simultaneously, all accomplished in a 10-month period in the year 1938, Featherweight, Welterweight, and Lightweight, it also represents his upcoming featured film God's Champion and love & equality for all.
The items above are being offered as a donation bonus for the donation amount indicated, plus free shipping in USA, Outside of USA, shipping fees will vary. All donations are fully tax deductible allowed by law.
100% of the proceeds from the donation for the t-shirt will be used in Armstrong's honor to support the youth, education, the homeless and equality. Striving to maintain improvement in quality of life for those who are underserved. We must all come together as one to support our youth to become great leaders in their communities locally and globally.
This T-shirt was masterfully designed by artist: Eduardo De La Cruz. Also, on the backside of the t-shirt, represents the 80th anniversary of boxing legend Henry Armstrong's Historic Undisputed World Championship Titles. The images will last forever.
"We are only as great as the communities we serve and rely on the generosity of donors to help us make a difference in the lives of those in need and change the world."
Secure payment via Paypal. Click on the Paypal donation button below: Also please allow 14 days or sooner for delivery. Your support is greatly appreciated!!!
To send contributions by mail: Please make your checks or money orders payable to:
Henry Armstrong Foundation, Inc. 2007 Wilshire Blvd. Suite 727 Los Angeles, CA 90057