GET AN IDEA - MUSTARD SEED - FAITH - CARD
In October 1878, Thomas Edison, had an idea and created the first working lightbulb, and Henry Ford had an idea and became a multi-billionaire, the founder of the Ford Motor Company. What isn't widely known about boxing legend Henry Armstrong, is that before he achieved championship status. As a young kid, he had an idea too, that he was going to make it. We are encouraging every young person to get an idea and write it down, make it plain and have faith as a mustard seed and take massive action towards attaining their goals and dreams. - Edward Scott, Jr. Grandson - Founder
JESUS SAID IN MATTHEW: 17:20: "IF YE HAVE FAITH AS A GRAIN OF MUSTARD SEED, NOTHING SHALL BE IMPOSSIBLE UNTO YOU. THE BIBLE ALSO TELLS US IN MATTHEW 7:7:8: TO "ASK, AND IT SHALL BE GIVEN YOU; SEEK, AND YE SHALL FIND; KNOCK, AND IT SHALL BE OPEN UNTO YOU:" 8: "FOR EVERY ONE THAT ASKETH RECEIVETH; AND HE THAT SEEKETH FINDETH; AND TO HIM THAT KNOCKETH IT SHALL BE OPENDED AND IN HABAKKUK: 2:2:3, AND THE LORD ANSWERED ME AND SAID, WRITE THE VISION AND MAKE IT PLAIN UPON TABLES, THAT HE MAY RUN THAT READETH IT. 3:FOR THE VISION IS YET FOR AN APPOINTED TIME, BUT AT THE END IT SHALL SPEAK, AND NOT LIE: THOUGH IT TARRY, WAIT FOR IT; BECAUSE IT WILL SURELY COME, IT WILL NOT TARRY.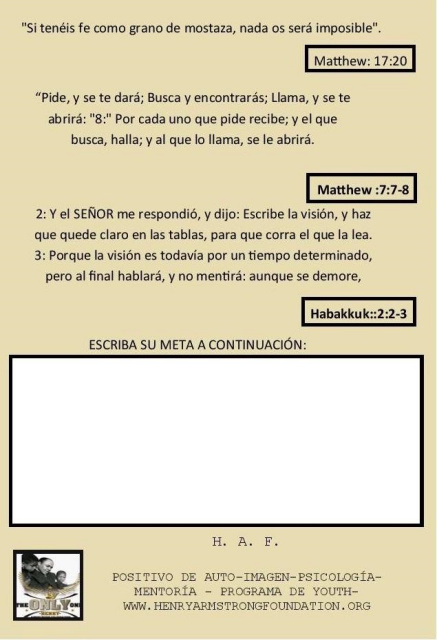 Warning: All photos on this website may not be copied or used for any purpose, without
the prior approval and notification of its rightful owners.

© 2006 Henry Armstrong Foundation, Inc.