Henry Armstrong Foundation, Inc.
Medical and Athletic Scholarships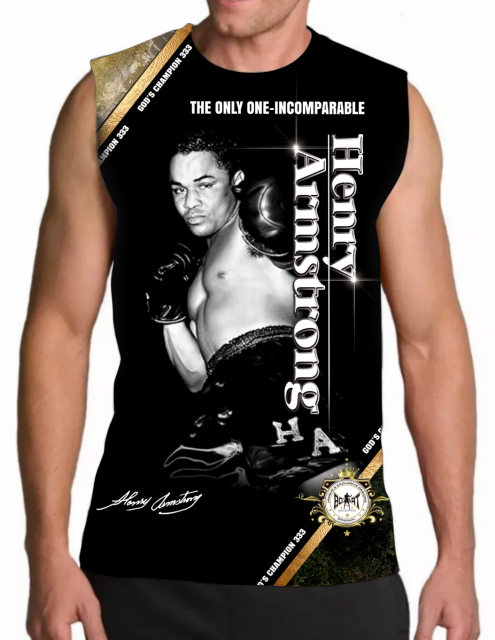 THE IMPORTANCE OF EDUCATION!!! BOXING LEGEND HENRY ARMSTRONG WANTED TO BECOME A SURGEON BUT WAS DENIED THE SCHOLARSHIP CONTEST THAT HE HAD WON IN SECOND PLACE DUE TO HIS RACE, ALTHOUGH HE HAD EARNED IT. HE UNDERSTOOD
Born Henry Jackson, Jr. aka Henry Armstrong on December 12, 1912, in Columbus, Mississippi and at an early age, moved to St. Louis. He graduated with Honors and Valedictorian from Vashon High School in the First Class of 1928.
This must have muscle t-shirt for the summer, will help empower young people through education with medical and athletic scholarships. Flex your muscles in The Only One-Incomparable muscle t-shirt , representing the only fighter in boxing history to have held three undisputed championships in three different divisions within 10 months, Featherweight, Welterweight and Lightweight.
When you make a donation not only will you receive our bonus gift muscle t-shirt, you are actually using your muscle to help us provide a stronger education to young people today by donating to the Henry Armstrong Athletic and Medical scholarships program.
100% of the proceeds from the donation for the t-shirt will be used in Armstrong's honor to support the H. A. Foundation Youth Scholarship program.
We must all come together as one to support our youth to become great leaders in their communities locally and globally.
(Available in sizes S, M, L, XL, for a minimum donation of $45.00, for larger sizes, an additional $16 donation would be required. Please be sure to indicate your size when you make your donation.)
FREE shipping in USA, Outside of USA, shipping varies and additional charges will apply.
To send contributions by mail: Please make your checks or money orders payable to: Henry Armstrong Foundation, Inc. 2007 Wilshire Blvd. Suite 727 Los Angeles, CA 90057.
The Henry Armstrong Foundation, Inc. has been classified as a non-profit 501(c)(3) organization by the Internal Revenue Service (Tax Exempt). Your contributions and donations are greatly appreciated and are fully tax deductible as allowed by law.