Join Us In Giving Back And Honoring Women Worldwide!!!
"Making the World A Better Place"
Boxing Legend Henry Armstrong Had Women Strong As Pillars In His Life To Help Him Achieve Championship Status.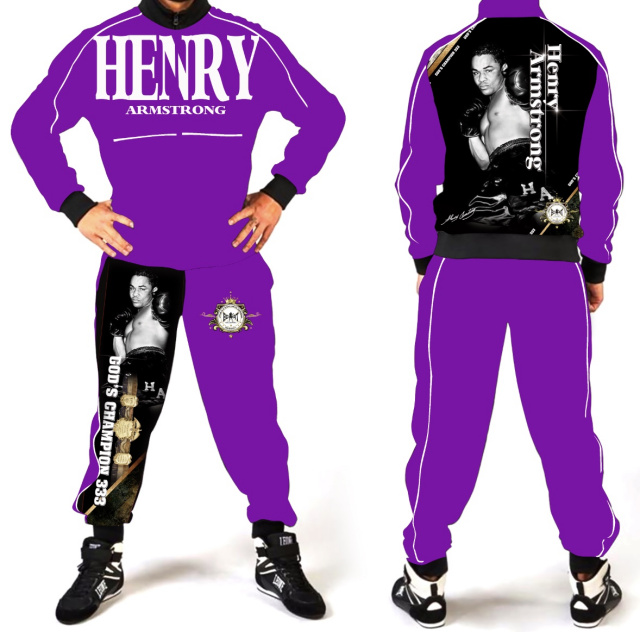 This God's Champion 333 Commemorative Pink and Purple Tracksuit include Armstrong's Signature and it is dri-fit with Henry's image and is dedicated to honoring all of the amazing God fearing women around the world who are strong as pillars and dedicated true champions for their family, friends and others. Also, 100% of the proceeds from the donation for the God's Champion Women Tracksuits will be used in Armstrong's honor to support our mission to help as many people as possible who have been affected by cancer, hunger, youth empowerment and COVID 19 Pandemic. May God Bless You All On Your Journey.
TOGETHER WE CAN MAKE A HUGE IMPACT & DIFFERENCE IN THE LIVES OF THOSE WHO ARE UNDERSERVED!!
Available in sizes S, M, L, XL, for a minimum donation of $165.00, and for larger sizes, XXL, XXXL, a minimum donation of $175.00, would be required.
Please be sure to indicate your size when you make your donation.) FREE shipping in USA, Outside of USA, shipping varies and additional charges will apply.
To send contributions by mail: Please make your checks or money orders payable to: Henry Armstrong Foundation, Inc.
2007 Wilshire Blvd. Suite 727 Los Angeles, CA 90057.
The Henry Armstrong Foundation, Inc. has been classified as a non-profit 501(c)(3) organization by the Internal Revenue Service (Tax Exempt). Your contributions and donations are greatly appreciated and are fully tax deductible as allowed by law.
We are dedicated to youth empowerment and uplifting and providing underserved families in need with food and supplies, in Los Angeles and worldwide. TEAM HENRY ARMSTRONG!!!